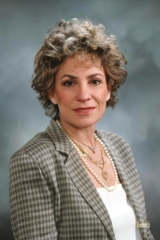 Hope Lemberg
Referral Associate, ABR | Brookline/Newton Office
617-566-8379

About Hope
Hope brings "savoir faire" to real estate. A well established
professional with a flair for connecting and facilitating
transactions, Hope brings to residential brokerage years of
success in negotiation, marketing, strategic analysis and
evaluation, scoring record-breaking results in sales and
acquisitions. Adept at identifying and matching the needs and
goals of buyers and sellers, Hope is energetic and
enthusiastic, polished and pragmatic, dedicated and
dependable. Committed to providing outstanding service, she
exemplifies Hammond's benchmark of excellence.
A former executive in the Italian film industry, Hope
graduated from the University of Michigan, attended
the "Institut d'Etudes Politiques" in Paris, and was awarded
a Rotary Graduate Fellowship at the University of Rome. She
lived and worked in Europe for 30 years and is trilingual in
English, French, and Italian.